Retour à la liste
PT
How to plan your cycling trip using EuroVelo GPX tracks?
mercredi 31 août 2022
If you want to plan the daily sections for your dream cycle trip on EuroVelo routes, but you're not sure what to do with the GPX files saved on your computer, read along. This article is made for you...
Last month, a highly requested and long-awaited functionality went live on EuroVelo.com: free downloads of the EuroVelo GPX tracks! This means that you can now visit www.EuroVelo.com to find inspiration for your next cycle trip and save the tracks of the route you would like to cycle (either for the whole itinerary or per thematic stage). With this new functionality, there needn't be any borders to your imagination! You can connect routes and countries and customise your journey as much as you wish, cycling from Alpine summits to Baltic shores and from Northern Norwegian fjords to the Mediterranean coast.
How does it work?
On most pages you have the choice to download either the whole route or only the developed parts, if you want to be sure to find infrastructure adapted to bicycles: cycle tracks, painted cycle lanes or public roads with low levels of traffic and speed limits. If the route's development status is set to "developed with signs", it means that EuroVelo panels will be there to guide you on the road.
But remember that the EuroVelo network is a work in progress initiative. If an itinerary is labeled EuroVelo, it doesn't necessarily mean that the route is realised in its entirety, and it doesn't ensure its quality. You should remain cautious with the information provided. The EuroVelo network covers over 90,000 km of cycle routes and data is gathered from more than 23 different partners: National EuroVelo Coordination Centres and Coordinators (NECC/Cs) as well as national contact points. While the ECF and NECC/Cs make every efforts to ensure the tracks and their levels of development are both current and accurate, errors or outdated information can occur. Read the disclaimer to find out more.
How do I prepare my journey?
Once you have downloaded your tracks, you need a program to visualise them and configure your journey. We have tested for you a few apps and software programs that you can try out, on which the GPX tracks are easy to use: RidewithGPS, Garmin Basecamp, OsmAnd and Komoot.
RidewithGPS can be used online in a browser on your laptop, and also as an app on your phone. See below for some easy steps to plan your trip with this software program, or read the full article.
Garmin Basecamp works well on a laptop and allows you to easily cut and paste the tracks to make a daily plan for your trip. If you have a Garmin GPS device, save the tracks of the routes you want to cycle each day and just follow the guide!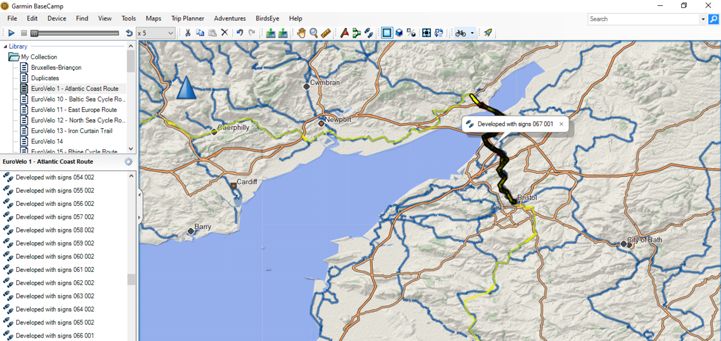 OsmAnd is an app that works offline and uses OpenStreetMaps for map and point of interest data. Upload your EuroVelo tracks, choose a color that makes them visible and use the information included in the app to plan where to stop and what to visit along the way. You can upload several tracks at the same time to check their crossing points.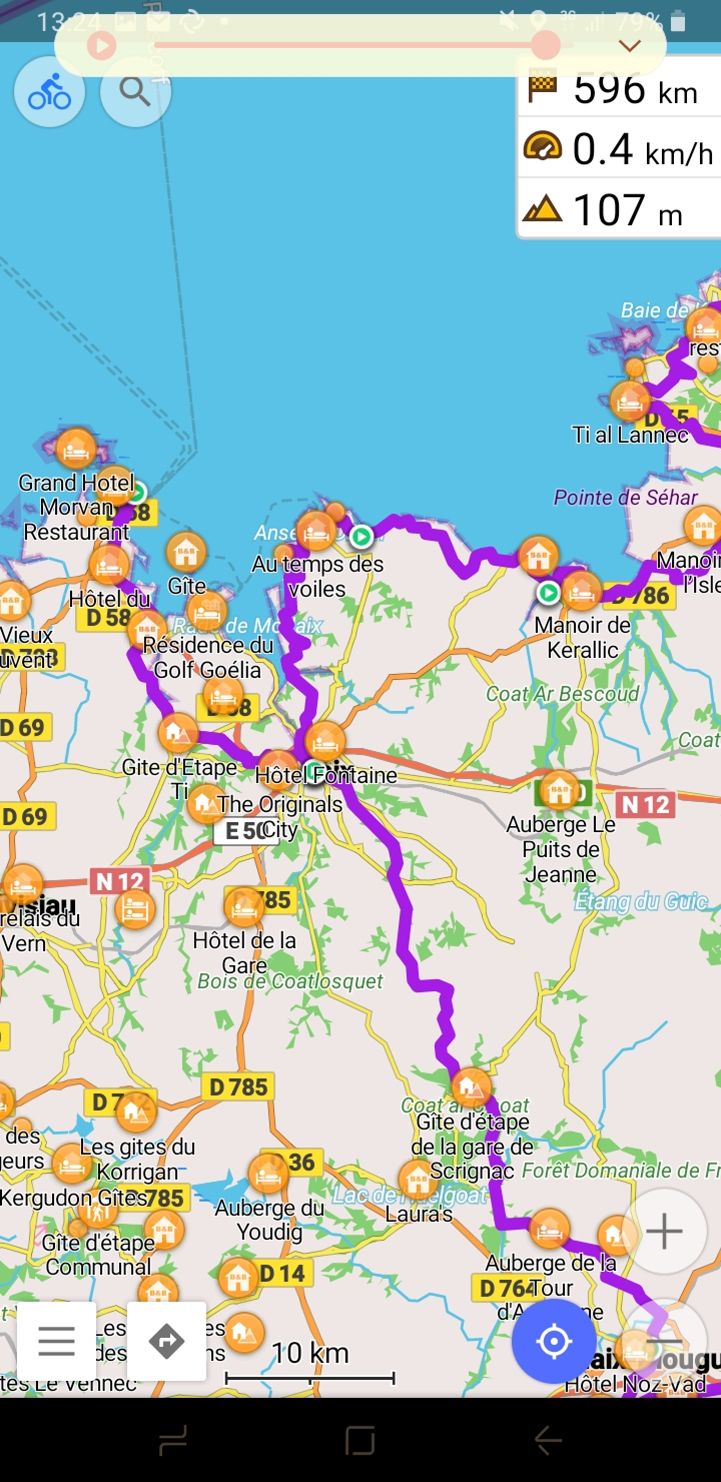 Komoot is a very popular cycling and hiking app on which you can find inspiration. When uploading a track, Komoot interprets each daily section as a different tour, so you will have to make several imports to plan your trip. Komoot cross-checks information with available databases, giving you statistics on the way, including the surfaces along the road and an estimation of the difficulty of the ride!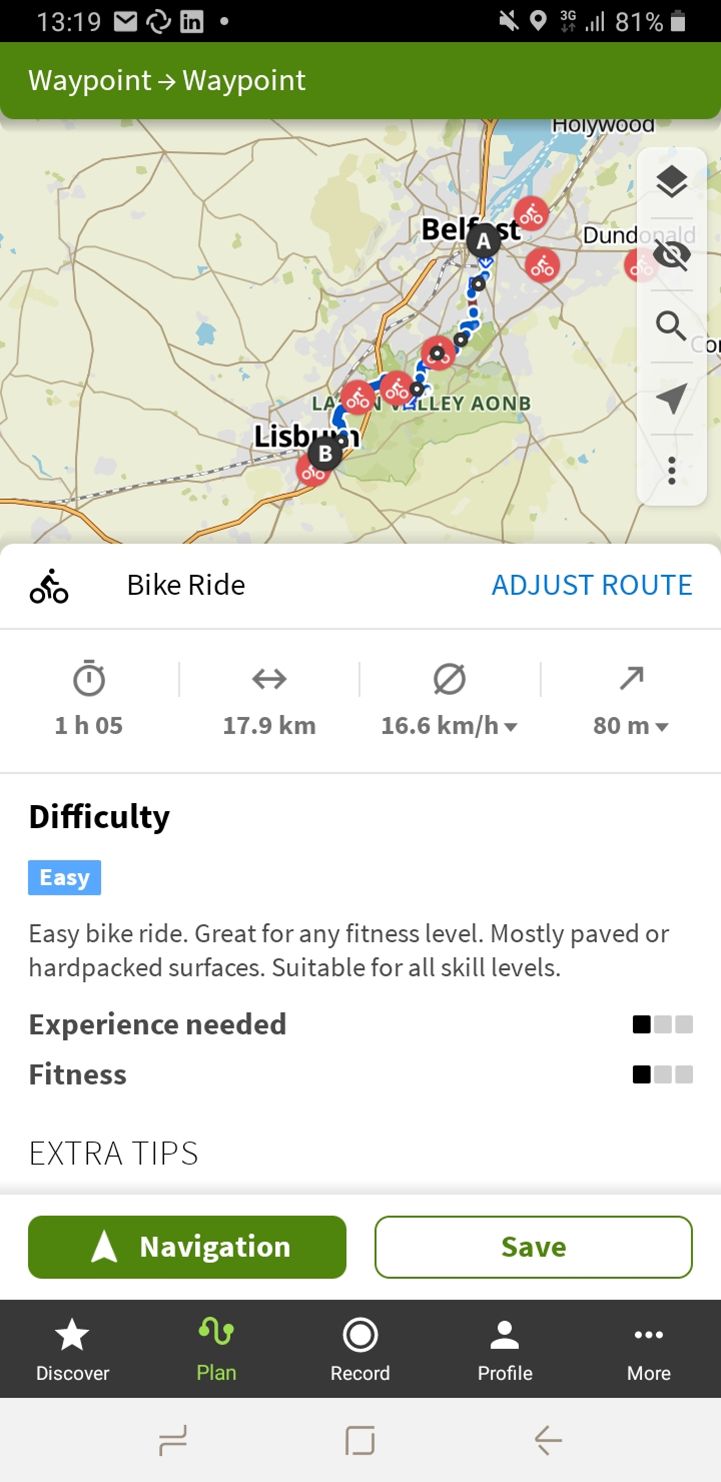 We cannot attest to the performance of the tracks in other GPX data visualisation software providers, so again stay safe when using the tracks on different services to the ones listed above. Make sure to double check the development status of the sections you plan to ride on www.EuroVelo.com! In the meantime; we will be working on guaranteeing an optimal performance of the tracks on other software providers and apps.
You can keep on supporting the EuroVelo network and its development by making a donation and/or choosing to travel by bike on your next holidays.
3 easy steps to configure your route using RidewithGPS: download, import, customise
In this article we zoom in on RidewithGPS, as their team has prepared a great how-to guidelines explaining the 3 steps to follow to use the EuroVelo tracks. Below is an extract of their article. Watch their video for a tutorial in images!
1. Find and download GPX files: Select your desired route(s) and download via the yellow "DOWNLOAD GPX" button on each of the route or stage profile pages. You will have the option of selecting the full route or developed parts for download.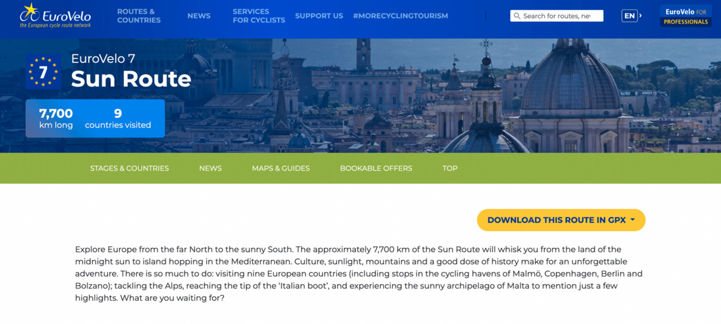 2. Import to RidewithGPS: Open your EuroVelo GPX file directly in RidewithGPS by opening the Route Planner and selecting IMPORT EXISTING in the upper left toolbar. Following the prompt, click UPLOAD FILE and select your downloaded EuroVelo GPX file. Import by selecting ADD TO PLANNER. Your selected GPX track will open and display on the map within the Route Planner.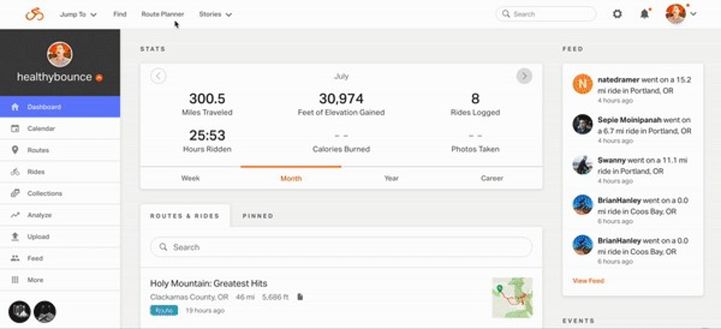 3. Create your route: Use the Trace tool to create new route lines following the grey line of the EuroVelo GPX track as a guide. With your downloaded GPX course displaying in the Route Planner, select the TRACE tool from the menu to the right. This will allow you to manually trace the EuroVelo GPX course track to your desired length. When you are satisfied with your route, simply select the SAVE button in the lower left to finish.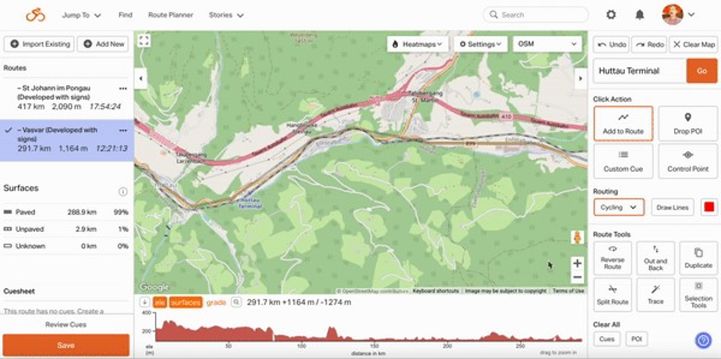 Now, the only thing left for you to do is to get out and ride... We love to share your #MoreCyclingTourism stories to inspire others to jump on their bikes next holidays! Tag @EuroVelo to keep us on the loop.
Author: Florence Grégoire