Retour à la liste
FR
DE
NL
CH
Meet the 2022 Summer Photo Contest winners
jeudi 29 septembre 2022
This summer, we invited everyone to join the #MoreCyclingTourism movement and share the best photo of their cycling trips along EuroVelo 15 - Rhine Cycle Route or EuroVelo 19 - Meuse Cycle Route and inspire others to use their bikes for their next holidays. We received many submissions from cyclists enjoying their summer and we thank everyone for participating. In the end, however, only one – or rather two – can be the winner!
With an improvement on the COVID-19 restrictions, travel resumed and cyclists were present to stand for #MoreCyclingTourism and inspire others to reimagine the way we travel for a greener, healthier and more inclusive future.
The contest ran on Instagram from July to August and almost 40 entries were submitted from many identifiable locations along the routes. There was a mix of everything we love to see in these photos. From family excursions along the riverbanks, highland adventures, solo bike-cations, beach holidays, camping trips and simple city tours from cyclists of all ages. There was even a small dancing crab for the first time!
We would like to thank everyone for rallying under #MoreCyclingTourism and participating in the contest. Get to know the winners below.
Winner: Alex Ramos (@ayun_nampelkafe)
Prize: €1,500 cycle tourist package along a section of EuroVelo 19 (proposed by www.dutch-biketours.com)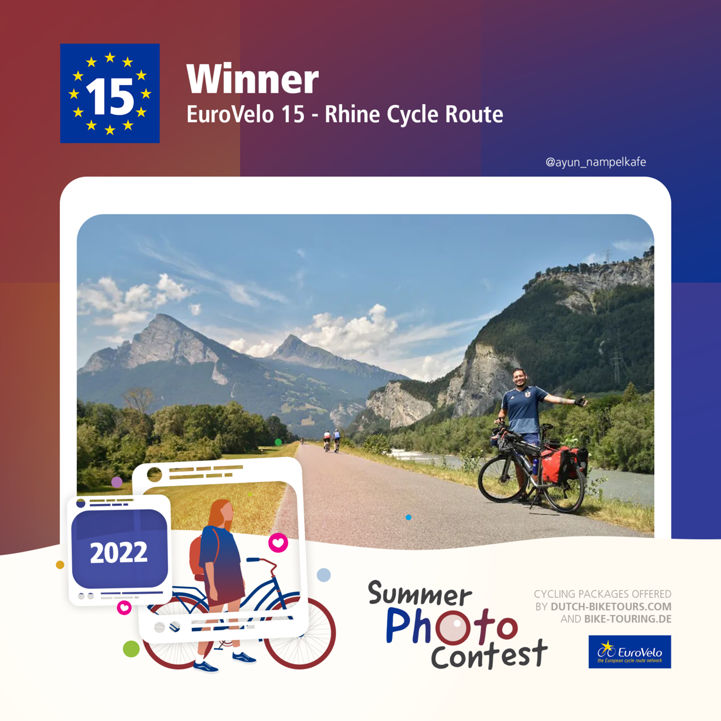 1. Where/how was the winning photo taken? Is there any interesting story linked to it?
The photo was taken on the banks of the Rhine River in the city of Sargans in Switzerland, right on the border with Liechtenstein. Unfortunately, there is no specific story about the picture. I departed on this trip with the aim to enter the contest so I left the house with my camera and tripod thinking about where I could take a nice photo.
2. There was a very tight contest, perhaps you can tell us how you mobilised to collect so many likes from the community?
Indeed, it was hard and very competitive. I even saw that last year the winners didn't have as many likes as we did. I never thought we would get thousands.
There are several people and groups who helped me and supported me so much! First and foremost, there was my best friend Nico, a world traveller who likes simple things on a budget. I am also grateful to my friends who made the connection with the "Barra Los de Abajo", the official supporters group of the football team of University of Chile and the most popular one in the country, but especially the group LKB*LASUR that even got me celebrity contacts!
I bicycled through Latin America from 2016 to 2019 without any money, and I received a lot of support and affection. As you can see, this still applies today.
Besides this trip, I also met the founders of a backpacker organisation who are quite famous and who also supported the photo sharing. In addition, cycling tourists that I met on the road also brought their support as well as groups I came to know afterwards like "CicloturismoChile" or "GravelChile".
Finally, I can't forget to mention the great support of my family in Chile and my new family in Switzerland, my ex-companions from university, high school and life.
Without a doubt, many people helped me, it's incredible. A friend told me "this shows the beautiful mark you have left and that you leave to those who meet you", a huge thank you to all of them.
3. What do you think about the EuroVelo initiative?
As I arrived to live in Europe not so long ago during the COVID-19 pandemic, I only became aware of the competition this year. While I was getting my residence permit, I was dreaming of getting to know this continent and I came across EuroVelo. As a result, I decided that this year I would do a trip to enter the competition since dreaming is for free!
For us Latin Americans, forgotten peoples and poor neighbourhoods, working-class, peasant and artisan families, it is never easy. Nobody gives us anything, especially the current governments and the military dictatorships which have even taken away our fear. That's why we take the risk of going out into the world, breaking the pattern of "when I will have money" because normally, in our reality, that almost never happens. So, this initiative has allowed us to dream, to know what is beyond the horizon, to do something that we might never be able to do… This initiative gives us the opportunity to feel alive and free!
I dedicate this award to all those people who have helped me, who have even shown empathy without even knowing me, simply because they understand that this is an opportunity that few others have. They will be on my mind as I will cycle on EuroVelo 19 as well as their kind words: "send us pictures of what you will get to discover" or "what a joy that one of us has finally won something".
4. Are you planning another big project or trip?
I don't have a specific trip in mind. I dream of getting to know Paris and going there by bike or another of my dreams is to cycle around Madagascar. I try to live with the eyes of a tourist, I don't think so much about planning trips because every day can be a trip. If we can see our own region with the eyes of a tourist, it is like an eternal trip. The rest are dreams, but as someone said to me: "you have to dream hard, and very hard so that you can realise it".
Winner: Conrad Richardson (@conrad.richardon)
Prize: €1,500 cycle tourist package along a section of EuroVelo 15 (proposed by www.bike-touring.de)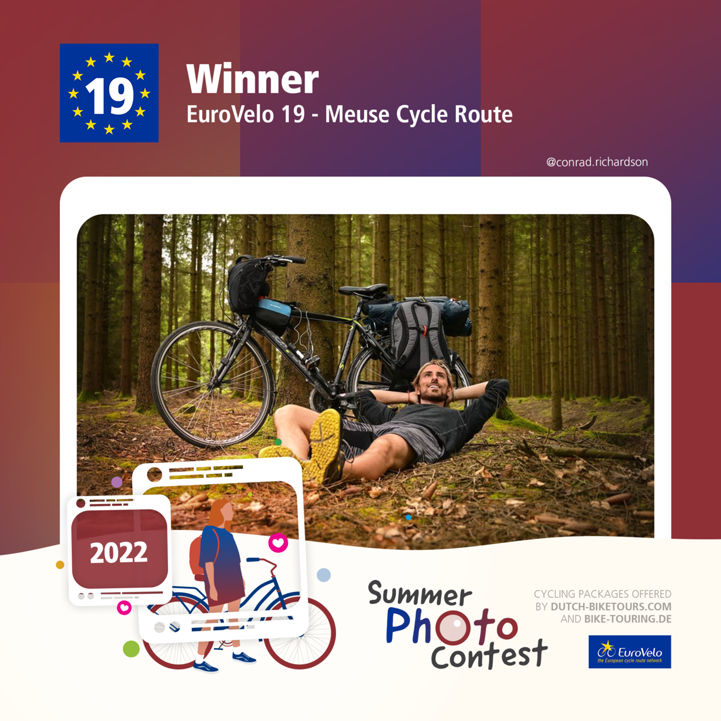 1. Tell us a bit about yourself?
I am a sustainable mobility activist from Ireland with a long-time passion for cycling. Cycling plays a big role in both my personal and professional life; on the personal front, I began cycling not long after learning to walk. Fast-forward 30 years, I currently live in Cambodia and spend much of my free time either cycle-touring, gravel-riding, mountain biking, or road riding… with that, my apartment is full of bicycles… but there's always room for one more, right? When I'm not cycling, I'm either creating travel or bicycle-related videos or supporting a local Cambodian community-run charity called 'Bikes 4 Kids'. To date, via Bikes 4 Kids, we have raised funds and delivered over +500 bicycles (I have a few related videos on my Youtube channel).
On the professional front I am a transport planner and engineer. A small part of my job involves promoting cycling through policy, planning, and street design. I have previously worked on bicycle infrastructure projects in Ireland and Ethiopia, and currently, from Cambodia, I work on several projects (on behalf of the German government) across the ASEAN region (ASEAN = EU of Southeast Asia). Given the chance, I would gladly create a EuroVelo equivalent for the ASEAN region.
2. Where/how was the winning photo taken? Is there any interesting story linked to it?
The winning photo was taken in the summer of 2020. Long story short, shortly after the global lockdown, I found myself locked out of the United Arab Emirates (where I had been living and working), without work, and separated from my partner. I moved back in with my parents (for 8 months) who were living in Belgium at the time. To entertain myself I would borrow my dad's bike and go for long rides in the countryside. During this time, I somehow developed an interest in cycle camping, my partner claims she planted the idea… and after watching some inspirational YouTube videos, I bought the necessary gear and set off on my own adventure 428km across Belgium en route to Luxembourg (where my big sister lives). At the time, I had no idea what I was doing, however having already done my fair share of backpacking and nature camping, as well as, long-distance cycling, cycle camping felt like a natural progression… a merging of several passions.
When I set out for the trip I was not familiar with EuroVelo routes. It was on this adventure that I was introduced to the EuroVelo routes by 'Stan the Cycling Man', a Belgian cyclist who found me lost on the outskirts of Mons in Belgium. He offered to show me the route into town, I followed him, and once in town we went for a beer and chatted… and it was in one of our conversations that he introduced me to the EuroVelo network (8:23). The next day I continued my adventure, now along the Meuse River, and joined EuroVelo 19 in Namur and into the Ardennes mountains (3:30) where this photo was taken… during a much-needed break from a pretty brutal climb (5:12). On this trip I also rode along EuroVelo 3 – Pilgrims Route and EuroVelo 5 – Via Romea (Francigena) as I made my way towards Luxembourg where I ended my trip (9:10). Shortly after this trip I found a new job and relocated to Cambodia 'The Kingdom of Wonder'. From Cambodia, now reunited with my partner, we have embarked on several weird and wonderful cycling adventures (here's a short-film documenting one of them).
3. What do you think about the EuroVelo initiative?
I love it. The expansive network of EuroVelo cycle routes is a symbol of successful cross-border cooperation, a means for long-distance sustainable travel, while it also promotes the health and well-being of Europeans. We Europeans are truly privileged to have access to such infrastructure (kudos to you, the EuroVelo team for championing this!). I wish I could enjoy more of it… perhaps if/when I move back to Europe. Here in Southeast Asia, in contrast to European cities, most ASEAN cities are becoming less bicycle friendly. Not too long ago the bicycle dominated, now with the growing middle classes, bicycles have rapidly been replaced by motorised two-wheelers and increasingly 'space hungry' 4-wheelers. This in turn has made cycling unnecessarily dangerous, stressful, and undignified. Nevertheless, there is a small selection of cities that have recognised the important role of, and invested in high-quality cycling infrastructure, there is hope!
All photos submitted for the contest can be viewed on our Instagram account. We thank everyone for participating and we hope to see you in our future contests!
Authors: Omer Malak and Alexandra Fournier, with contributions from the contest winners