Retour à la liste
FR
One-way bike rental: a growing service for cyclists
vendredi 14 octobre 2022
What do you know about one-way bike rental? It is a service that allows you to rent a bike in one location, cycle your planned trip, and return it to a different location. This article explores its benefits and challenges.
One-way rental may be very practical for those who want to explore only a section of EuroVelo routes, cannot use their own bike for their holidays, or want to include biking as part of a bigger, long-distance trip. For example, you may want to rent a bike on EuroVelo 15 – Rhine Cycle Route in Basel, bike across the beautiful landscapes and vineyards of Alsace, leave your bike in Strasbourg, and take the train back to your starting point, or to anywhere else.
In short, a one-way rental looks like a win-win situation for many bike tourists. However, it is still an emerging service with a few issues to solve – accessibility, quality of the offer, complimentary services, and promotion – before becoming a strong reality in the cycling tourism market and offer.

Cooperation is essential
Due to its nature, the concept of one-way bike rental implies cooperation between a variety of actors in the tourism industry. The first ones that come to mind are bike rentals, which provide quality bikes and materials, as well as customer service. Then come cycling organisations and associations promoting cycling tourism, who advocate and give visibility to the service. Tourism boards and destination marketing organisations are important too, because they spread the word about such services, as well as tour operators, which include biking as part of their tour packages. Lastly, hospitality professionals are the ones to offer bike-friendly accommodations and amenities to make the trip comfortable.
To meet the demand of cycling tourists, all these actors must get organised to provide a uniform, convenient and accessible service: good bikes and components to avoid incidents along the way; convenient pick-up and return points, allowing intermodality; baggage transport, bike repair facilities, biker-friendly accommodation, safe parking and storage. Last, but not least, good marketing and promotion of the service, possibly in cooperation with tourism boards or agencies, is necessary to give visibility and attract new one-way biker tourists.
Service providers and professionals have constraints and concerns, too. Cycling stakeholders must access safe storage spaces and bike shipping services once the rental is over, meaning from point B to point A. As private companies can be in competition and legal issues may arise, partnerships between public and private actors need time to take shape and be efficient. Once successful partnerships are established, it is possible to cut rental costs, eventually making the service more affordable.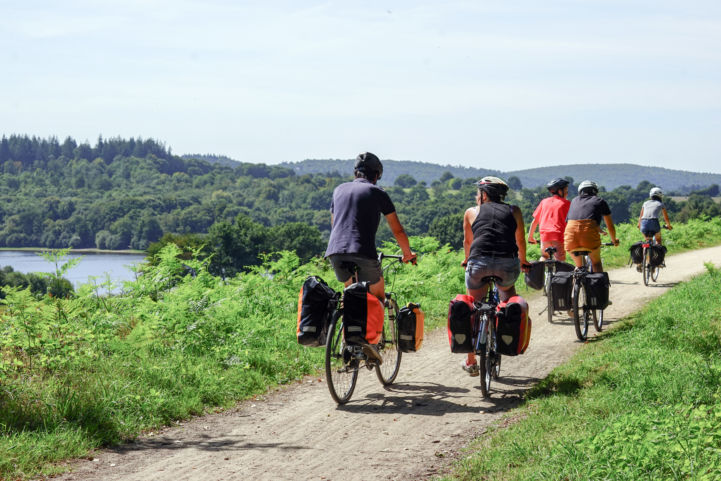 Learning from best practices
How to solve these issues, then? Some examples from France are a good way to start. The national network of bike rental providers Ouibike lists the offers around the country giving them visibility on its website. Local and regional events gather different stakeholders, stimulating new partnerships. A successful example is the one between two bike rental companies, Les Trouvillaises and Loc'vélo, along EuroVelo 4 – Central Europe Route in Normandy, or between private rental agencies and local tourism offices. However, regional differences are still large and there is work to do to uniform the offer.
Vélo & Territoires, National EuroVelo Coordination Centre for France, is working to get all its concerned members around the table: itinerary representatives, destination marketing agencies, and private actors. The road is still long, but the potential for efficient, affordable, high-quality one-way bike rental services on European bike routes is huge.
This article has been adapted from an article on the Vélo & Territoires website by Jessica Casagrande. Read the original in French at this link.
Cover picture's credits: © Euregio Rhein-Waal - Projekt Demarrage - P. Gawandtka - ADT